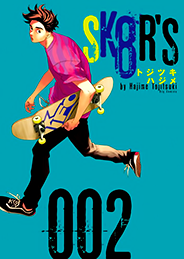 Associated Names: None.
Author: Tojitsuki Hajime | トジツキハジメ
Genre: Seinen
Lenght: 3 volumes (complete)
Related Series: None
Original Publisher: Shogakukan
English Publisher: None
Year: 2013
Summary: A group of friends, being young and hella crazy. A daily life of these young boys and girls who have something in common their friendship and their love for skateboarding. With an amazing character design and excellent depicted situations from the sport, we see this inevitable story that was meant to be drawn by Tojitsuki's hands.
DOWNLOAD
Volume 01
Volume 02